Bolton Hare Family
William Henry Bolton, son of Henry Bolton and Elizabeth Obenshain, was born September 26, 1835 in Giles County, Virginia and died of pneumonia on December 2, 1879 in Stone Creek, Giles County, Virginia.
He married Eleanor Hare on July 23, 1865 in Poplar Grove, Butler County, Iowa.
Military Service: He enlisted in Company B, 23rd Infantry Battalion of Virginia on April, 10 ,1862. He enlisted as a 2nd lieutentant and was promptly promoted to 1st lieutentant and on July 16, 1863 was promoted to captain. The 23rd battalion served in numerous major battles of the Civil War during William Bolton's service including Jackson's valley campaign, Antietam, 2nd Battle of Bull Run, Chancellorsville, and Spotsylvania Court House. On August 9, 1864, war records show William deserted to the enemy while on detached service from his battalion. (See civil war record if password provided on request.)
Residences: He was born and raised on his father's farm in Giles County, Virginia. In the 1860 census, he was living with his father and lists his occupation as a carpenter. After the war, he moved to Iowa, probably to live with his uncle James Bolton and the multi-generational Bolton family. James had moved to Iowa from Virginia to become head of the household. Peter Bolton had passed in 1859 leaving his son, Thoms B. Bolton as head of the household along with his surviving spouse, Mary. Thomas B. died of an intestinal infection in late 1864 less than a year after volunteering for service with the Iowa 32nd Infantry. The Bolton's farm was adjacent to the Hare's. Here William Henry met and married Eleanor Hare, who was not yet 15 on the date of their marriage. The family moved from Iowa back to Giles County, Virginia between 1871 and 1873. Here he farmed near his brothers, perhaps on his father's land, till his death.
Occupation: Carpenter, Farmer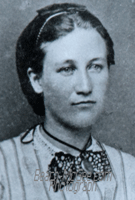 Eleanor Hare, daughter of James B Hare and Betsy Olmstead, was born September 1, 1849 in De Kalb, Illinois and died of small pox on May 11, 1881 in Bayard, Guthrie County, Iowa.
Other events in the life of Eleanor Hare
Residences: According to the 1860 Census of Beaver Township, Butler County, Iowa, 10 year old Eleanor lived with her 7 year old sister, Salina and their parents, 34 year olds Betsy and James B Hare. Next door was the Thomas B Bolton family. After the death of her husband in 1879, she continued to live in Giles County, Virginia with her six children until some time after June 1880. The family returned to Iowa where she died of small pox in 1881.
Burial: Bachanan Township, Page County, Iowa
Children of William Bolton and Eleanor Hare
Lillian Bolton was born in 1866 in Cedar Rapids, Iowa and died October 8, 1950 in Logan, Phillips County, Kansas.
Etta Madrid Bolton was born January 10, 1868 in Butler County, Iowa. She married Charles Duncan in Buchanan County, Missouri on May 11, 1891.
Ollie B. Bolton was born on March 1, 1871 in Clarinda, Page County, Iowa and died January 12, 1952. She married Joseph M Weaver on January 24,1889 in Phillipsburg, Kansas.
Lena May Bolton was born on May 27, 1873 in Virginia and died on March 19, 1946 in Parnell, Missouri. She married Edwin T. Pierson on October 24, 1894 in Clarinda, Iowa
Guy Judson Bolton was born in 1876 and died on May 14,1881 of small pox a few days after her mother.
Absalom Dempsey Bolton was born in Giles County, Virginia September 26, 1877 and died August 18, 1961 in Roanoke, Va. He married Flora Etta Thomas on September 26, 1901.
Henry Milton Bolton was born on March 3, 1879.